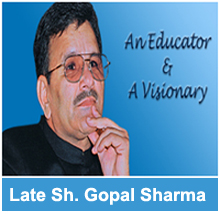 OUR FOUNDER PRINCIPAL
The above quotation wonderfully sums up the enigmatic and dynamic personality of Shri. Gopal Sharma, the Founder- Principal of MVN Schools.A visionary in the true sense of the word, he revolutionized the whole approach and concept of education in the small industrial town of Faridabad and placed it on the map of the NCR. His vision and mission have inspired and guided the institution as it moves from strength to strength, carving a niche for itself. A true son of the soil, he began his life from the humble village of Khambi. A great teacher himself, he realized the need for an institution that could provide quality education to the students of Faridabad and ensure that they become worthy citizens and above all good human beings. MVN Khambi is a tribute to sir's aspirations and dreams by Mrs Kanta Sharma and Mr. Varun Sharma . The school started with a handful of students, and their number has grown every year, with 198 students at present. The school has one section each from Nursery to class seven. ...The school aims to empower children from economically weaker sections of the society by providing them opportunities and helping them to be literate and skilled citizens of India. Besides imparting quality education to the unprivileged children, there is also provision for deserving and meritorious students to be absorbed in mainstream school at MVN Palwal, giving them full scholarship.
The school is celebrating 9 years of success and genuine concern and looking forward to many such glorious years where it can change the life of not one, but many, for the better.